Christmas is all about spending quality time with your family! We've seen several families connecting through fun Christmas challenges on their platforms, and you can too!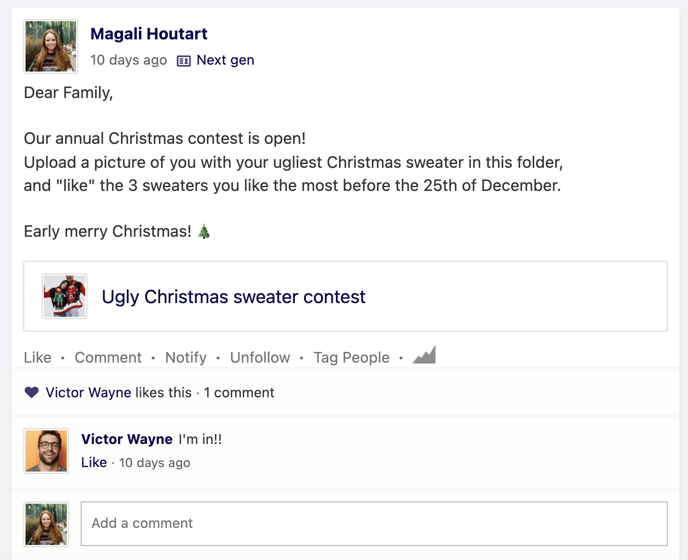 Create a folder named "Christmas challenge 2021"



Create a story about it, here are a couple templates to get you started:
Oh Christmas Trees!
"Dear Family,
we would love to see what your Christmas tree looks like this year! Is it a traditional red & green ? A chic white and silver ? Or a whimsical pink decorated with macarons?
We kindly invite you to upload a picture of your Christmas tree in this folder and to "Like" the tree you like the most. On the 1st of January we will announce the winning tree with the most likes!"
Stay Ugly, Christmas Sweaters
"Dear Family,
we all know you probably have an ugly Christmas sweater or dress that's waiting all year long in your closet to be put in the spotlight. This is their time to shine! Upload a picture of your cutest, ugliest or prettiest Christmas outfit in this folder. The sweater with the most likes will be announced as the winner and crowned as the ugliest sweater across the winter's wonderland! Challenge accepted?"
Don't forget to Notify members of your posting for optimal engagement! Your CSM at Trusted Family would be delighted to help you organize it if needed.
Have a great winter holiday!